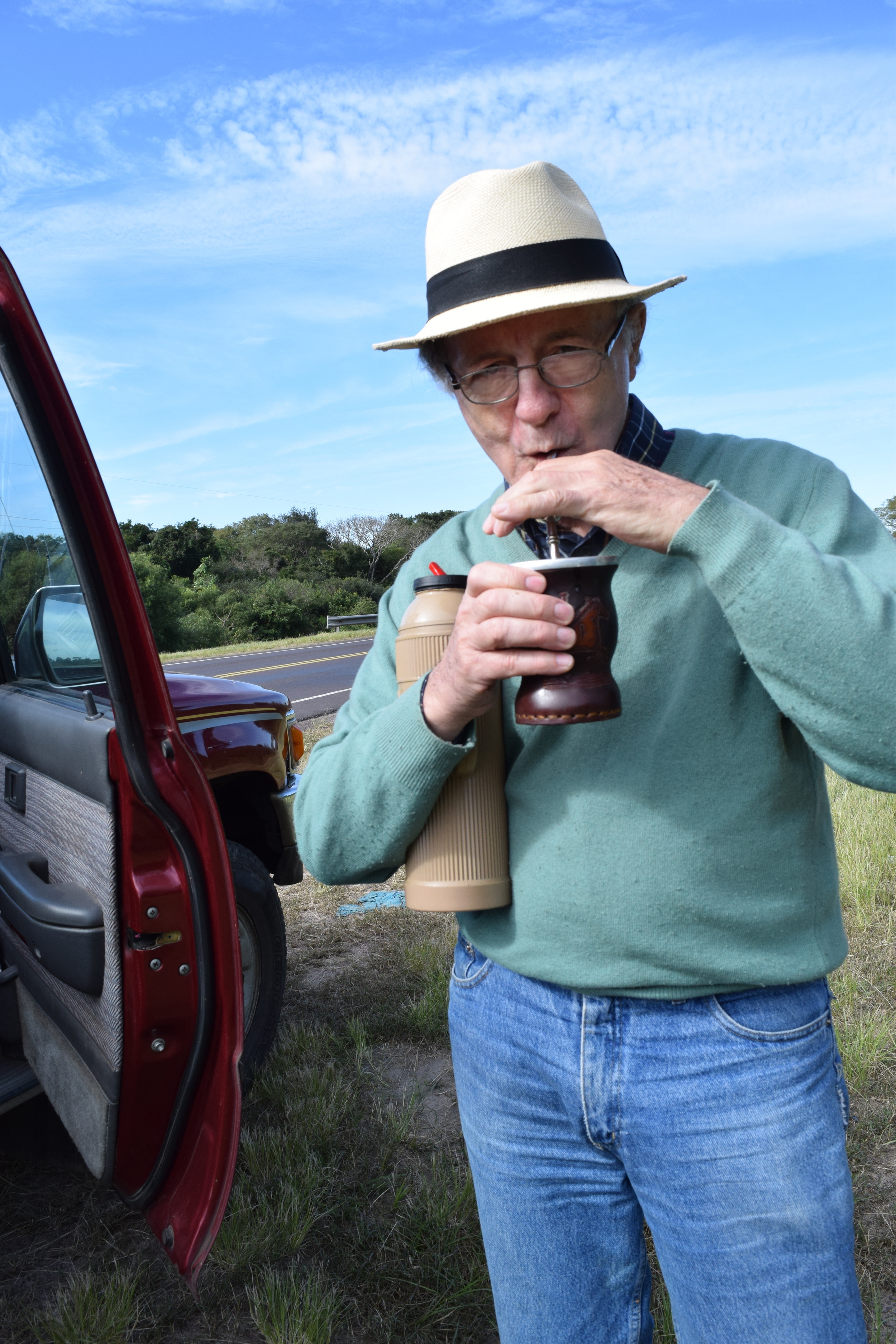 A poem by Lalo Mir
Picture this: a street corner in the city center, rush hour. A man, who, with a thermos in one hand and a full gourd of mate in the other, leapt onto the back of what I can only guess to be his friend's moped at a stoplight. Mere seconds later, the moped sped off. Its new passenger, his hands being otherwise occupied, never grabbed hold of anything: not the moped, not the arm or even shoulder of the driver in front of him. It seems only fitting to break my hiatus from the blog to bring you more on the beverage that seems to fix its beholders onto motor vehicles like the glue of God. While my mother may not be convinced that keeping a firm hand on mate keeps you from tumbling off of a moving vehicle, I witnessed it myself.
After a conversation about mate and my previous post on the subject, one of my students shared this poem by Argentine radio host Lalo Mir. With the help of the rest of the class that challenges me everyday to be a better grammarian, I bring you an English translation paired with the original. I find it simply lovely, and I will let Mir's words - and our translation - speak for itself.
Mate is not a drink.
Well, yes, it's a liquid that enters through the mouth
But it is not a drink.
In this country no one drinks mate because they are thirsty.
It's more like a custom, an itch.
Mate is exactly the opposite of television:
it makes you talk if you are with someone;
it makes you think if you are alone.
When anyone comes into your home, the first utterance is Hello and the second: Any mate?
This happens everywhere:
in houses of the rich and in houses of the poor.
Between longwinded women and gossips,
between men, serious and immature.
In nursing homes and among adolescents whether they study or get high.
It is the only thing that parents and children share without any argument or reproach.
Liberals and conservatives pour mate without question.
In summer and in winter.
It is the only thing that we seem to share between the victims and the executioners; between the good and the bad.
When you have a son, you start giving him mate as soon as he asks.
You give it to him only slightly warm, with a lot of sugar, and he feels he is big.
You feel a great pride
when your birth son starts sucking up mate.
Your heart beats out of your chest.
And later, with some years, they will choose to take it bitter, sweet, very hot, terere, with orange peel, herbs, or with a squeeze of lemon.
When you meet someone for the first time, you drink some mate.
They will ask, when there is not yet any trust: Sweet or bitter?
And their answer: as you like it.
The keyboards in Argentina have keys full of yerba.
Yerba is the only thing that is always there, in every house.
Always.
In times of inflation, hunger, war, democracy, or of any of our pests or eternal curses.
And if one day there is no yerba, a neighbor who has it gives it to you.
Yerba is not denied to anyone.
This is the only country in the world where the decision to stop being a boy and start being a man occurs on one particular day.
Not on the day of his first pair of long pants or of circumcision,
not his first day of University or of living away from parents.
Here we become adults the day we have the need to drink mate for the first time alone.
It's not by chance. It's not just because.
On the day that a boy puts the kettle on the fire
and drinks his first mate when no one else is home,
it is in that minute that he discovers his soul.
Or he is scared to death , or he's dead in love , or something else...
but it is not an ordinary day.
None of us remembers the day we drank mate alone for the first time
but each of these days was important
For on the inside too there are revolutions.
The simple mate is nothing more and nothing less than a demonstration of values.
It is the solidarity to bear taste of watered-down mate because the conversation is good.
It's the lovely company.
The chat, not the mate.
It's the respect for the time to speak and to listen,
while you speak and another one drinks, it is the sincerity to say:
Stop, change the yerba!
It is companionship made in an instant.
The sensitivity to hot water.
It is the care to ask, stupidly,
"it's hot, no?"
It's the modesty of who serves the best mate.
It's the generosity of giving until the very end.
It is the hospitality of the invitation.
It is the justice of one for another.
It is the obligation to say Gracias, at least once a day.*
It is the ethical, honest and straightforward attitude,
with no great pretense other than to share.
El mate no es una bebida.
Bueno, sí. Es un líquido y entra por la boca.
Pero no es una bebida.
En este país nadie toma mate porque tenga sed.
Es más bien una costumbre,
como rascarse.
El mate es exactamente lo contrario que la televisión: te hace conversar si estás con alguien, y te hace pensar cuando estás solo.
Cuando llega alguien a tu casa la primera frase es ´hola´ y la segund´¿unos mates?´.
Esto pasa en todas las casas.
En la de los ricos y en la de los pobres.
Pasa entre mujeres charlatanas y chismosas, y pasa entre hombres serios o inmaduros.
Pasa entre los viejos de un geriátrico y entre los adolescentes mientras estudian o drogan.
Es lo único que comparten los padres y los hijos sin discutir ni echarse en cara.
Peronistas y radicales ceban mate sin preguntar.
En verano y en invierno.
Es lo único en lo que nos parecemos
las víctimas y los verdugos,
los buenos y los malos.
Cuando tenés un hijo, le empezás a dar mate cuando te pide.
Se lo das tibiecito, con mucha azúcar, y se sienten grandes.
Sentís un orgullo enorme
cuando un esquenuncito de tu sangre empieza a chupar mate.
Se te sale el corazón del cuerpo.
Después ellos, con los años, elegirán si tomarlo amargo,
dulce, muy caliente, tereré, con cáscara de naranja,
con yuyos, con un chorrito de limón.
Cuando conocés a alguien por primera vez, te tomás unos mates. La gente
pregunta, cuando no hay confianza: ´¿Dulce o amargo?´. El otro responde:
´Como tomes vos´.
Los teclados de Argentina tienen las letras llenas de yerba.
La yerba es lo único que hay siempre, en todas las
casas.
Siempre.
Con inflación, con hambre, con militares, con democracia, con cualquiera de nuestras pestes y maldiciones eternas.
Y si un día no hay yerba, un vecino tiene y te da.
La yerba no se le niega a nadie.
Éste es el único país del mundo en donde la decisión de dejar de ser un chico y empezar a ser un hombre ocurre un día en particular.
Nada de pantalones largos, circuncisión, universidad o vivir lejos de los padres.
Acá empezamos a ser grandes el día que tenemos la necesidad de tomar por primera vez unos mates, solos.
No es casualidad. No es porque sí.
El día que un chico pone la pava al fuego y toma su primer mate sin que haya nadie en casa, en ese minuto, es que ha descubierto que tiene alma.
O está muerto de miedo, o está muerto de amor, o algo: pero no es un día cualquiera.
Ninguno de nosotros nos acordamos del día en que tomamos por primera vez un mate solo. Pero debe haber sido un día importante para cada uno.
Por adentro hay revoluciones.
El sencillo mate es nada más y nada menos que una demostración de valores.
Es la solidaridad de bancar esos mates lavados porque la charla es buena.
Es querible la compañia. La charla, no el mate.
Es el respeto por los tiempos para hablar y escuchar,
vos hablás mientras el otro toma
y es la sinceridad para decir: ¡Basta, cambiá la yerba!´
Es el compañerismo hecho momento.
Es la sensibilidad al agua hirviendo.
Es el cariño para preguntar, estúpidamente, ´¿está caliente, no?´.
Es la modestia de quien ceba el mejor mate.
Es la generosidad de dar hasta el final.
Es la hospitalidad de la invitación.
Es la justicia de uno por uno.
Es la obligación de decir ´gracias´, al menos una vez al día.*
Es la actitud ética, franca y leal de
encontrarse sin mayores pretensiones
que compartir.
*there is a universal, unspoken rule that you must say "Gracias" but only once: when returning the mate for the last time, signifying that you are full and do not wish to drink anymore